The Isle of Man has been a favourite kayaking destination of mine since I attended a symposium back in 2006. The warm welcoming nature of the people here along with the stunning coastline keeps me coming back for more. If only the weather could be relied upon!
On Saturday, Kirstine and I joined Nico and Jukka's group for a short trip along the south coast from Port St Mary. Throughout the day Nico and Jukka along with local guide, John Keggin dispensed valuable wisdom and a host of top tips to keep everyone informed and entertained.

After a blustery grey start to the day, the skies cleared to reveal a breezy sunny day with blue skies. The overnight winds left us with enough swell for some challenging rock hopping and some fun in the surf.
The evening entertainment started with a delicious barbecue dished up by the Ballabrooie crew followed by a talk on American kayaking history by Tom Bergh and a talk on motivation in paddlesports by Nigel Dennis. Drinking, singing and dancing went on into the wee small hours…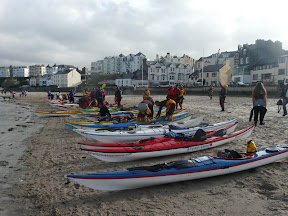 Sunday brought in freshening winds from the south so the west facing inlet of Port Erin became the venue of choice. Hangovers were soon cleared making way for more action on the water. More skills sessions including four star training culminated with more surf action in the bay before many of the paddlers began heading home.
In the meantime Kirstine and I are staying on for the following week for some more adventures.