A word to the wise. No one sleeps in at an active fishing harbor! The first boats put in at 4:30. The rush was over and the parking lot over-full by 7:00. The town itself, a tourist town, wouldn't start moving until 10 or 11. I decided rather than hanging out at the harbor I'd go in search of a coffee shop to wait for the tourist shops to open. I found Whale Bites Cafe, a lovely place with chai tea and giant homemade cinnamon rolls, owned by a marine biologist who does whale-watching tours and knows most of the individual resident whales. Beth was super nice, and a couple regulars recognized me as the paddler and chatted for a while. One was a kayak fisher. Conversation with him confirmed that the kayak fishers here who go out on sit-on-top fishing kayaks are really safety-savvy. It was a great place to sit for a while with lovely people.
I got nervous about the time, though, even though it wasn't any later than I had planned for my launch at slack with a short day ahead of me. There was just something about this leg that had me unnerved. I got my flip flops and went on my way.
Of course, a late start meant more wind. I keep forgetting that wind causes waves! It's the only thing pretty much that causes waves at home, but here I pay attention to the swell and keep thinking of the wind just as wind. It was definitely strong enough to kick up some good waves – a solid 2 ½ to 3 feet. Not huge or unmanageable, but noticeable… It got cloudy and foggy again – everything always seems just a bit scarier when it's cloudy. I got the forecast for the next couple days, and the swell was growing and a south wind coming in. I had planned a short day, with a really short day the next day, and a long day after that when there wasn't much in the way of places I wanted to land. With a bigger swell and south wind coming in, I thought I should go to tomorrow's landing spot so I could do the long day the next day before the bigger swell and south winds. Having already been nervous, I got myself psyched out again. It didn't help when I passed my planned spot for the night, which was anything but protected with the southwest swell.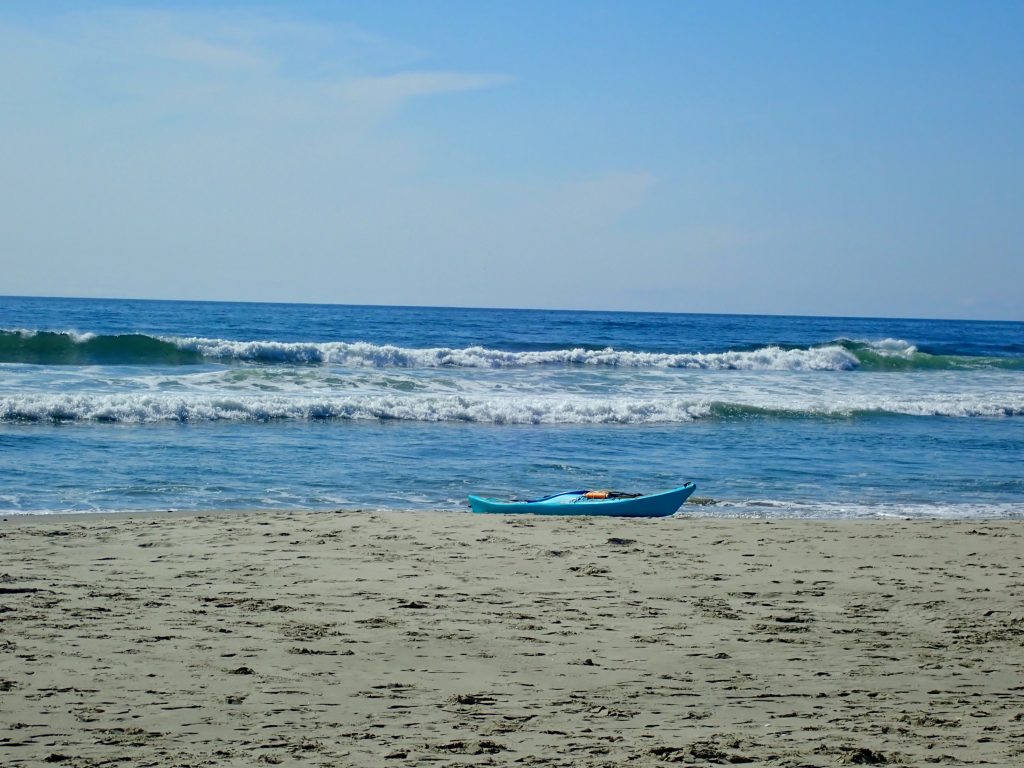 I went into Newport, and very soon came the next debacle of this leg of my journey. The beach I'd found on Google Earth looked not to have a beach at high tide. And there wasn't much anywhere else to take out. I pulled out at the Coast Guard and hiked up to their building. I startled a young guy having some downtime in the sun by climbing up from below. He didn't know what to tell me about where I could land, so he went and got his superior. (It turns out she's the one who gave Freya Hoffmeister a citation for crossing the bar when it was closed!) There weren't any good options, but they helped me find a bit of a spot to pitch my tent right on the other side of the fence from their property. (She apologized for not being able to let me stay on their property, which I thought was nice.) Anyway, it was this itty bitty loose rock beach. I took a tumble and hurt my toe. I didn't think I'd injured it, but I changed my mind through the evening. I hobbled around setting up my tent on this itty bitty rock beach, and then hobbled to town for another restaurant meal. I was exhausted again. And my toe hurt. And the last thing I wanted to do was try to cook. I was only 2 days into this leg, and I couldn't wait for it to be over!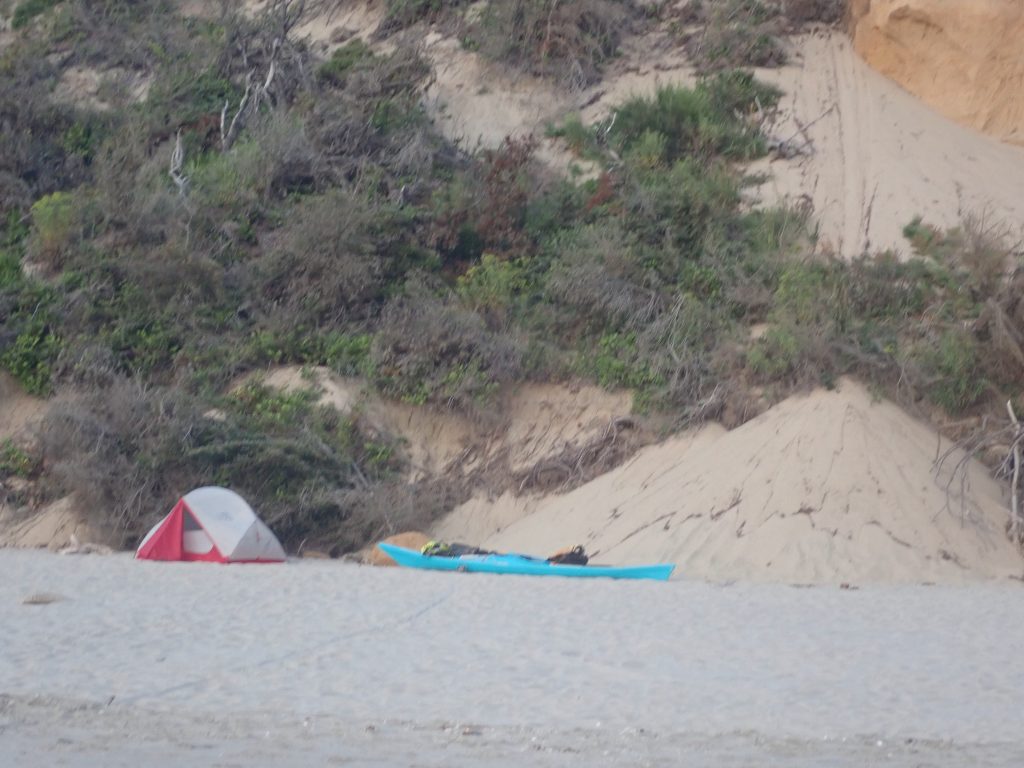 Dinner was good, and the waitress was really nice. We had this amazing conversation about life, and being happy. (I think I forgot to leave a tip! When I have internet I'm going to find the place and send her her tip. There's a special place in hell for people who don't tip!)
I hobbled "home" and splinted my toe. I couldn't wait for this leg to be done!
My sleeping pad sprung a leak. On this rocky beach. Uggh.
I was less than happy in the morning. I didn't know if I'd need to leave my toe splinted, if it was dumb to go anywhere that day, if my toe was broken… I felt dumb for finding myself in this predicament and pretty exposed on this little "beach" on the channel into town. My toe felt a little bit better though, and I sure didn't want to stay here another night, so I taped up my toe, packed my boat, and caught the ebb out of there.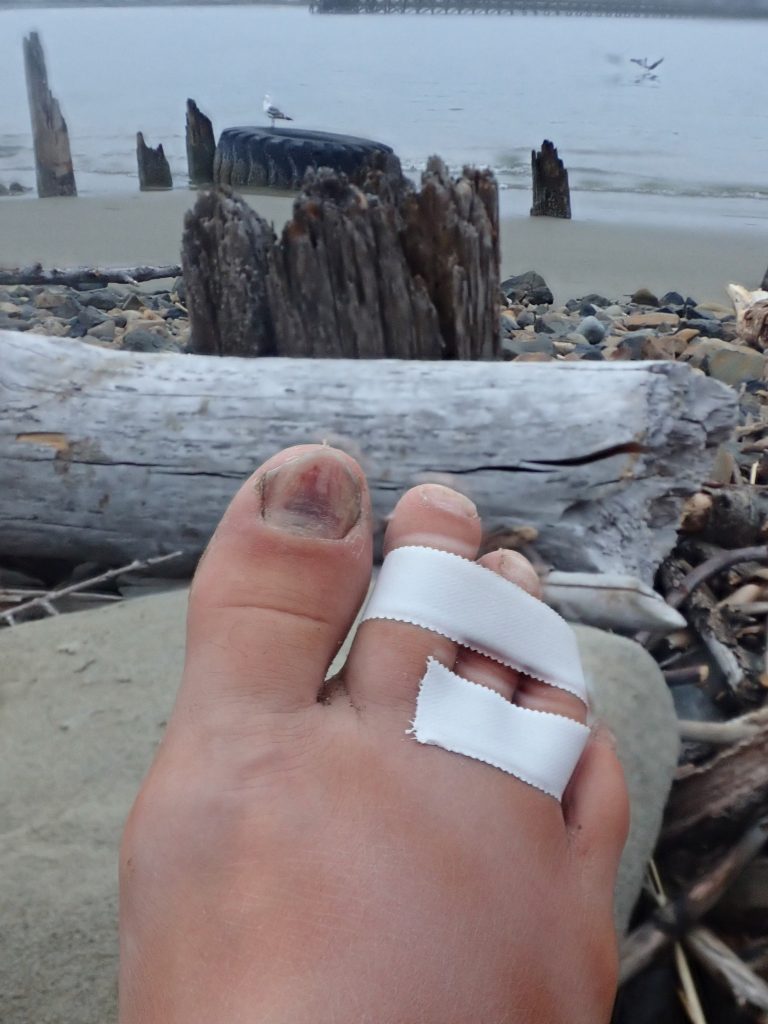 I thought it would be a miserable day. It was 30 miles to a good landing spot, and it wouldn't be the spot I'd thought because of the southwest swell. With a hurt toe and low morale.
It proved to be one of the best days so far. My toe did all right, the sun came out, and I finally found my "usual" paddling speed and cadence all day. I still psyched myself out for the small surf landing – which meant I "over-studied" it and styled the landing onto an iconic Oregon coast beach at Heceta Head.
I was planning to get up the next day (today) and paddle the last 10-12 miles to the pick up for the next mom-sponsored Airbnb and the end of this short leg. I decided instead to give my toe a break and stay here a day instead of look for a place to pitch my tent by the dive shop where my mom will pick me up tomorrow evening.
This beach may go down as one of the most beautiful, but this leg may go down as one of the worst. Or at least one of the ones I was most eager to end! Which is a little bit funny, because it's also likely one of the ones with some of the best or most interesting memories.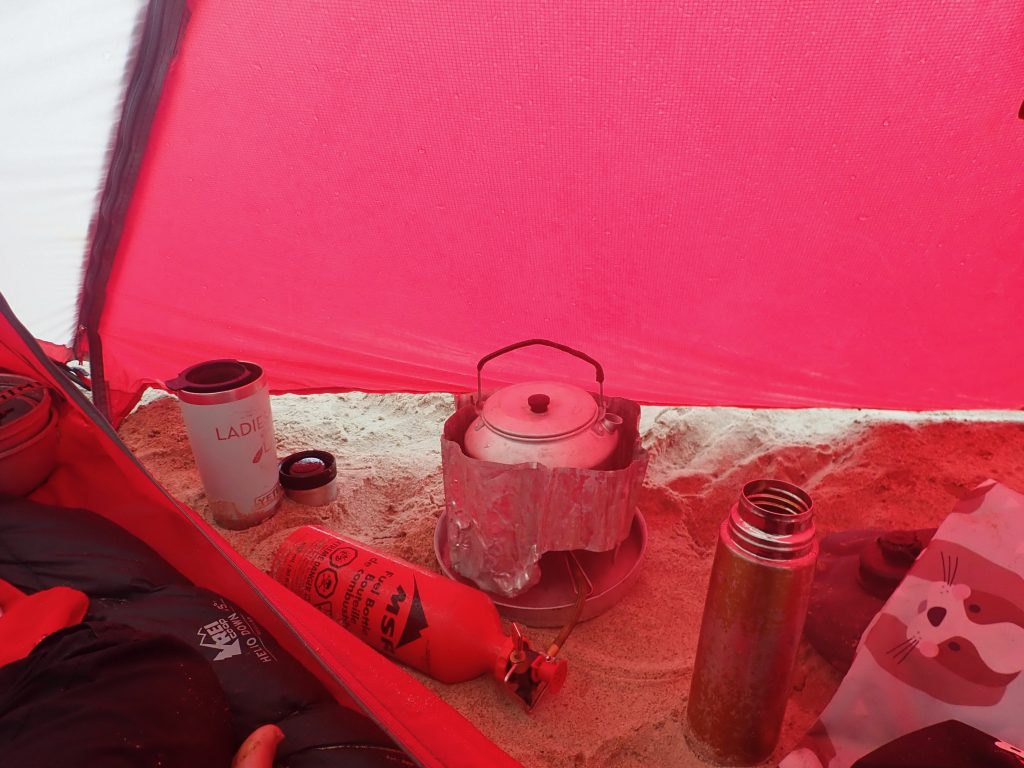 Anyway – it's a rainy day. I'm hanging out in my warm dry tent, but it's about time to go cook some food. Here's hoping I can end the leg on a good note tomorrow!
Post-Expedition Thoughts
When I let my mom read this post, she didn't like it. She thought I downplayed my experience. My knowledge, the fact that I'm a good paddler with good judgment and solid skills.
Much later in the trip, an experienced expeditioner commented that I was doing it in a way that made it accessible to other people. I was really glad to hear him say that – because it's exactly what I was trying to do.
I think one of the things that made it accessible is that I was open about the fact that it's not easy. That the decisions are challenging. That there were times when I was scared. Really scared. That there were times I did it "OK" but didn't do it "great." There were times when I made some dumb mistakes.
Being scared, doing something dumb, questioning yourself – these things don't mean you aren't up to the task. They don't make it a bad experience. They DO mean you need to be prepared enough to handle it when you make a mistake. Part of mitigating risk is about avoiding as many of those mistakes as possible. The other part is about having the knowledge and skill to handle it when you DO make a mistake. Because there will be something that goes wrong. If you only have the skills to handle it when you do it perfectly the first time – you don't have the skills to handle it.
And I wanted people to know, and to see, that you don't have to be a bad-ass hammerhead paddler to do something really big. I'm a skilled paddler. But I'm not a superstar or superhuman or a superhero.
You don't have to be either.
You have to be good enough. "Good enough" was a high bar for this expedition. I took it very seriously to be as clear-eyed and as honest as possible with myself in determining whether I was "good enough".
You don't have to be perfect.
You WON'T be perfect.
So work hard to get good enough – and then have the trip of your life.
It will be scary and it will be full of mistakes and you will question yourself – and you will style it and it will be amazing.